OCBC Wing Hang
Based on the customer-centric strategy, OCBC Wing Hang adopts 8Manage CRM to help employees interact with customers more proactively and effectively, thereby shortening the distance between the bank and customers.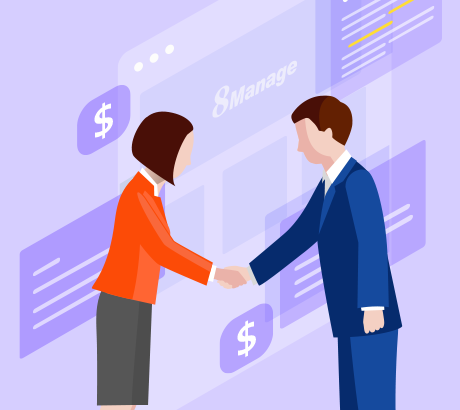 Products used by this client:
CRM >
Want to know
more about 8Manage ?
Contact us:

+852-6065-1864
+86-20-3873 1114
For the domestic banking industry, these are the "worst" times and also the "best" times. On the one hand, financial homogenization competition is intensifying, and the banking industry is facing continuous impact from Internet finance. On the other hand, the rapid development of information technology is opening up a new channel for banks to build lasting competitiveness.
Background
Wing Hang Bank (China) Co., Ltd. is a wholly-owned subsidiary of the former Hong Kong Wing Hang Bank in China. On July 29, 2014, OCBC Bank completed the full acquisition of Wing Hang Bank, headquartered in Hong Kong. On October 1, all outlets of Wing Hang Bank in Hong Kong and Macau officially changed their name to OCBC Wing Hang, and became a wholly-owned subsidiary of OCBC Bank on October 15.
Customer-centered fine management has become the key for the banking industry to adapt to and create user needs, reflect differentiated services, and stand out from the competition. CRM, or customer relationship management system, is an important means for banks to cultivate their core competitiveness.
Many internationally renowned banks are beneficiaries of CRM. It can provide banks with a comprehensive management perspective, empower banks with stronger customer communication capabilities, and maximize customer value. It is not just a system, but also a business strategy. Behind it is a collection of customer-centric management concepts and a set of detailed management ideas. OCBC Wing Hang is well aware of the effects that the CRM system can bring, and urgently needs a customer management system that can meet the needs of enterprise development.
Key Issues
1. OCBC Wing Hang has a variety of financial products such as deposits, credit, insurance and investment. The systems supporting these businesses are independent of each other, and the data cannot be interconnected.
2. Customer demands are not responded to in a timely manner. Sometimes customers call the bank's hotline to learn about stocks, financial management and other professional information, and the call center staff needs to answer various questions from customers in a very short time. In the past, employees might have to log in to 5 different systems to find useful information because the data was not connected. The long wait may cause the customer to lose patience and hang up the phone, and the bank thus loses a business opportunity.
OCBC Wing Hang hopes that the CRM system can integrate these customer data and fully connect with the banks CIF system, so as to realize the integrated management of bank operations. After careful selection and consideration, the bank finally chose 8Manage CRM, a customer relationship management system provided by WisageTech Inc. The system was customized and implemented by the provider's partner G4S Hong Kong with an aim to boost the bank's business development.
WisageTech Solution:
Integrate customer resources and create greater benefits with data
Those who get the data win the world. For OCBC Wing Hang, the integration of customer resources is the first and most critical step to achieve more effective customer management with the CRM system.
After launching 8Manage CRM, each customers borrowing, saving, insurance, investment and other information stored in each independent business system can be automatically imported into the same CRM system. The fragmented data was integrated to form a 360-degree global view of customers, covering their basic information, assets and liabilities, products held, income, etc. Then the bank uses them as support to build a complete customer classification system.
Based on the 8Manage customer classification system, OCBC Wing Hang can carry out targeted marketing from high-value users to inactive users according to their different needs, and provide differentiated financial products to better serve customers.
After the 8Manage CRM system is launched, when a customer comes to the bank and sits down, the branch manager can quickly and accurately view the customers family information, financial status, deposits, loans, wealth management and investment through the system, so as to analyze what products the customer really wants.
Using the system, OCBC Wing Hang can comprehensively mine and analyze customer data, respond to customer needs faster and more accurately and seize more opportunities in the market competition.
But now, as long as you log in to the CRM interface, you can see the complete customer information, and the time spent is 20% of the past. Response times are dramatically reduced, and the data provided is fast and accurate, allowing bank staff to better grasp customer opportunities. "
Deep business understanding and technical realization ability
As an important digital tool for enterprises to implement customer management, CRM has been popular for many years. To avoid it just "looking beautiful", we should not only rely on the strong technical capabilities of CRM suppliers, but also need in-depth knowledge of banking business.
OCBC Wing Hang has a lot of complex financial products. If you are not familiar with their business, you cannot customize CRM services for it. Since many of the founders of WisageTech are from the financial industry, and the G4S team that assists in IT implementation has served the banking industry for a long time, it is possible to realize system integration and many customized transformations according to the individual needs of OCBC Wing Hang, so that CRM can be really used.
Implementation effect and evaluation
Dicky Cheng, executive director of G4S, said: "OCBC Wing Hang's CRM process took 18 months from development to delivery, and the data integration project was huge and labor-intensive. But the results are very worthwhile. Today, customer data from various business systems can be updated to the CRM system in time, and the whole system interface is completely customized according to the preferences and internal needs of OCBC Wing Hang. It is very convenient for employees to use the system, which greatly improves efficiency."
After the successful delivery of the CRM system, WisageTech and G4S are continuing to update OCBC Wing Hangs CRM functions and strengthen system maintenance.
CEO of WisageTech Stephen said: "Affected by market-oriented factors or changes in government regulations such as changed deposit rates, new wealth management products and promotional activities during holidays bank product and service information often needs to be updated."
"8Manage CRM is developed in Java / J2EE language. In addition to providing a variety of custom functions, it also provides a software development kit (SDK), which can quickly generate application software pages and report statistics. It means responding to OCBC Wing Hang's new products and new business needs in a timely manner."
Moreover, the technical capabilities of WisageTech and G4S, combined with the perfect IT management of OCBC Wing Hang, have enabled the IT system to achieve a high degree of security and reliability. Currently, the uptime of the
CRM system
at OCBC Wing Hang has reached 99.9999 %.