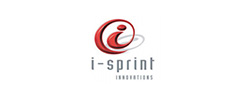 i-Sprint Innovations
8Manage has helped i-Sprint to integrate our business processes to achieve integrated management of sales opportunities, quotations, contracts and deliveries and higher customer satisfaction.
Products used by this client:
CRM >
Want to know
more about 8Manage ?
Contact us:

+852-6065-1864
+86-20-3873 1114
Background
Founded in 2000, i-Sprint Innovations is the premier provider of credential and access management solutions for global financial institutions and sensitive, high security environments. To grow in an increasingly competitive global market, i-Sprint has to deliver both high quality products and exceptional service performance to acquire and retain customers.
Critical Issue
-Sprint's CEO was frustrated that client account, product and service delivery information was inconsistent across sales, marketing and other functional departments. It was impossible to see a unified view of their customers because data was stored in multiple disparate applications. Without reliable performance data, it was impossible to pinpoint processes failures and determine what corrective actions were required.
Solution Needed
He told us he needed a way to put the customer at the center of his organization. Not only did all functions need access to consistent customer account data, they needed to be aware of all customer touch points, issues and responsibilities across the service delivery life-cycle. He wanted all locations worldwide operating with the same data in real-time, leveraging performance dashboards, email alerts and workflow escalations to ensure communication efficiency and information transparency. In his ideal state, engineering issues identified in Singapore would be instantly communicated to their U.S. sales team to better manage client relationships.
We Provided
WisageTech consulting services and 8Manage CRM software are helping i-Sprint achieve these capabilities.
Result
• Eliminated multiple, disconnected legacy business systems and automated core, end-to-end business processes in a single application, including: marketing, sales, customer service, product management, ordering/invoicing, contracting, and project management
• Significantly reduced cost and increased quality of customer support by standardizing customer data, building an online knowledge base, and automating issue tracking and reporting
• Improved customer satisfaction rate by over 50%
• Increased pipeline visibility and sales team effectiveness to drive ROI improvement in sales and marketing budget