Professional Service Business and Project Mgt. Solution
Challenge
---
Professional services intensified competition, slowing revenue growth. It is more important than ever for professional service organizations to be able to effectively allocate resources across international borders, accurately manage bid and project finances, and create and deliver new, differentiated and high-value subscription service models.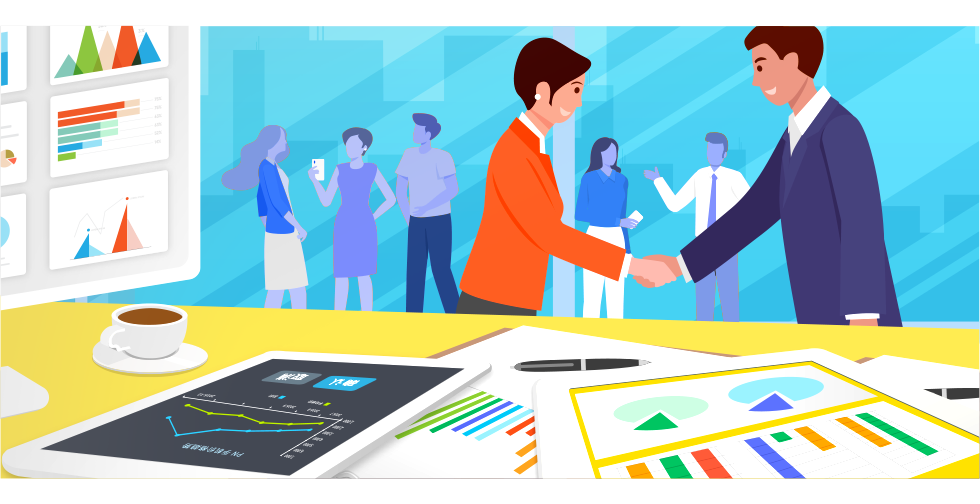 Business information is the key to solving the challenge. That means real-time access to an accurate, central database that provides the insights needed to improve performance and increase revenue and profits. This is where business project management SaaS can help. SaaS provides greater visibility, facilitates financial management and resource utilization, and automates management and data entry processes, allowing advisors to complete higher-value work and better serve clients.
Common challenges faced by professional service organizations include:
Human capital management and employee profitability
One of the most important KPIs for professional service organizations is billable utilization rate, which is typically calculated by dividing working hours per week into the time spent by employees on billable client work. According to SPIs Professional Services Industry Maturity Study, a 75% utilization rate is considered the minimum goal, with the best-performing service companies achieving an average utilization rate of 80% or higher.
Keeping staff utilization high drives higher turnover, revenue, and profits, but tracking and measuring billable utilization creates challenges for many professional service organizations.
Solution
---
One solution is professional service business and project management software, such as 8Manage BPM, which increases organizational utilization and efficiency of project and schedule management, while freeing up employees for high-value billable tasks. It enables organizations to automate and simplify many tasks, including timesheets, invoicing, resource forecast and allocation. 8Manage BPM software becomes a single source for all the vital information instead of trying to navigate various tools, spreadsheets, manual processes and disparate IT systems. Another utilization challenge is how quickly professional service organizations can turn new hires into profitable, productive resources. Reducing time range is the key to increasing revenue and profitability. 8Manage BPM software provides employees and managers with a systematic approach to processes. By linking processes and data of project and resource management, managers can set goals for the day or the week for employees. 8Manage BPM can link these goals with best practices as well as internal knowledge bases and assets.
8Manage BPM supports better knowledge transfer, allowing employees to master relevant knowledge faster. Easy-to-use systems, tools and processes help employees do their jobs, which in turn increases employee satisfaction. In other words, these systems and tools add value to their careers as it enables them to approach work more proactively, accept new tasks more easily and expand their skill sets.
Win New Business
New orders and repeat business from existing clients are fundamental pillars of growth in the professional service industry. But the pillars have gradually become a bigger challenge.
Competitive pressure to win new business has increased, signs of which can be found in industry data. Industry data shows that the global sales channel has dropped from 190% to 170%.
Another strong sign of increased competition is the bid-to-win ratio (the number of winning proposals per 10 submitted proposals) falling below 5. In Europe, the Middle East and Africa, the number dropped year-on-year from 4.64 to 4.31, and globally from 4.85 to 4.80, indicating fiercer competition.
To survive in this competitive market, professional service organizations need to increase the lifetime value of their relationships with clients, ensuring that their current projects are delivered on time and to the level of client satisfaction so as to provide more services. That said, have good performance analytics in terms of project metrics, service lines and strong client relationships, especially when it comes to employees involved in delivery.
Having these views operationally is critical for identifying needs and developing additional service offerings. Continuously adding new clients is also critical for professional service organizations.
Industry benchmarks suggest that at least a third of annual revenue should come from new business, but research shows that 62.5% of businesses get less than 30% of their revenue from new customers.
The secret to growing and staying ahead of the competition is winning new customers, entering new markets and developing new service offerings. This is not to say that there is an effort to provide every type of service to everyone. In saturated or slow-growing markets, service organizations need to take a more targeted and selective approach to customers, service, bidding and pricing to differentiate themselves from the rest.
Real-time data and full visibility into customers, projects, and resources are essential to developing new service offerings and winning new business. 8Manage BPM provides lifecycle views and visibility of key metrics including customer satisfaction, performance analysis, project execution and delivery in one place. As a result, organizations can more easily identify the best opportunities and respond more quickly to market changes.
Resource Management
Projects and resources are often distributed within companies at all levels worldwide. This means that tracking and effectively managing projects and resources is a huge challenge for professional service organizations. Mistakes can result in underperforming projects, with disastrous consequences for on-time delivery, execution quality, and customer satisfaction—all of which can impact revenue and profitability.
Lack of visibility is a key factor in inefficient resource management. Mission-critical staffing decisions need to be made based on up-to-date and accurate data on resource utilization and skills. Unfortunately, many professional service organizations still use spreadsheets to manage their resources. Spreadsheets are used to determine who can join which projects and to pick available resources. Spreadsheets may seem effective, but they are not. As organizations grew, problems inherent to the approach became more apparent. You might be able to manage the staffing process challenges of a 10-person professional service organization with a spreadsheet. When organizations double or triple in size, spreadsheets quickly become unwieldy.
The risk of this approach is a lack of insight into the most important asset—employees, the business may lose significant revenue opportunities. In order to assign people most efficiently, real-time reporting and analysis is very important. A more effective way is to use 8Manage BPM software and follow the best practices and processes of resource management. The software provides visibility into demand, opportunity, work process and to-do list data to help manage the business by allocating resources and driving projects to achieve benefits on a confidently predictable schedule.
With 8Manage BPM, a modern cloud solution, project managers and staffing teams have real-time access to the same resource availability data, and everyone knows who is available and who is not. When staffing changes occur, the 8Manage BPM solution will automatically reflect these changes. The benefit of this approach is that resource utilization is improved by allocating the right resources to the right projects and avoiding staffing gaps. This makes financial and demand planning forecasts more accurate, allowing management to revise hiring plans as needed.
Productization
Professional service organizations are evolving to "produce" service offerings into easily digestible work orders; on-demand orders, prepaid orders, or orders bundled in managed service offerings. However, packaging products is a challenge for many professional services firms because data from bids, deliveries and backlogs are scattered across the organizational hierarchy and management lacks visibility into macro trends related to actual results.
Using the centralized 8Manage BPM solution, professional service organizations can consolidate trends and results to build a functional catalog. With this foundation in place, organizations can more easily bundle functionality into packaged products. This productization of services replaces traditional charge rates with value- and outcome-based pricing. This in turn enables the company to allocate resources on demand and optimize profit margins. Customer satisfaction increases due to more clearly defined values and deliverables in productized packaging.
The benefits of service productization are manifold. Revenue from service sales is more predictable, with the tangibility that buyers want from suppliers today. Financial management has been enhanced due to tighter contracts, defined deliverables, and payment terms that often favor professional service providers who pay upfront—improving cash flow and consistency in collections. It also increases chargeable utilization, and enables employees to learn new skills and do more interesting work. More generally, it accelerates business growth.
Project Financial Management
Good financial management of the project life cycle (from scoping and bidding to delivery and invoicing) is critical to tracking whether a project has closed or is underperforming relative to the original bid and allocated budget. Like resource allocation, the spreadsheet approach no longer accurately tracks these moving parts, nor does it provide a snapshot view of the project's financial performance over time. If the financial management of the project is done well, the gross profit margin may exceed 60%. Gross margins can drop into single digits or even negative numbers if not managed well. A central source of accurate, real-time data enables project management offices (PMOs) to standardize policies, processes, and methods, generating best-practice guidance and metrics for delivering high-quality projects. In fact, research shows that professional service firms that use standardized delivery methods have more employees in fee-based roles, generate higher revenue per consultant and employee, and are more likely to deliver projects on time.
8Manage BPM software provides the real-time comprehensive visibility that professional service organizations need to make the right financial management decisions. The 8Manage BPM solution is designed to integrate core business processes within an organization so that each department has a clear understanding of their roles and metrics, and how they affect the organization's ability to succeed. Another financial management challenge facing professional service organizations is dealing with revenue leakage through inconsistent and inaccurate time and expense data scattered across different spreadsheets and systems. This makes it difficult to keep track of time and bills spent serving customers in a timely, consistent and precise manner. This can lead to delays and errors in invoicing customers. It can also lead to a spiral of uncollected daily sales as the average number of days a customer pays an invoice increases. The 8Manage BPM solution stores this data in a central repository, integrates with financial applications and automates most of the manual billing work as well as provides project billing information and specific details timely while automatically updating the general ledger. This method can reduce administration time by up to 50%, deductions from tax by up to 75%, and chargeable hours that are not properly recorded by up to 75%. 8Manage BPM makes employees' jobs easier and provides customers with greater transparency on charges while improving the bottom line.
Globalization
Today, even small professional service organizations have resources not just in one country, but around the world. International expansion is fundamental to increasing customer base, revenue and profits.
However, international expansion and operations bring many challenges, including more efficient regulation, more complex compliance, multiple currencies, intercompany bookkeeping activities and cross-invoicing. This requires systems and processes that provide an accurate single source of data, support rapid implementation and scale-up, and include localized capabilities that automatically incorporate national currency and tax requirements. In the context of international growth, trying to operate and allocate resources in different countries with outdated methods such as spreadsheets can quickly make the situations intractable.
8Manage BPM software helps manage people's movement and financial reporting across borders, all from a central source of information. The cloud-based solution can be quickly implemented in new countries without the upfront capital expenditures associated with scaling up legacy IT systems and operations. By providing more real-time visibility into project requirements and staffing, 8Manage BPM software ensures that project resources are effectively utilized across different countries, preventing loopholes that could result in delayed deliveries to customers, which in turn affects customer satisfaction and the likelihood of repeat business.
Final Words
Professional service organizations face many challenges in profitability and growth. Market saturation, price pressures, economic and political uncertainty in some service industries mean that professional service organizations must find new ways to differentiate themselves and gain a competitive advantage. In such a competitive market, professional service organizations must not only continue to add new clients, but also have the analytical capabilities and insights to develop new products and services to extend the lifetime value of existing client relationships. Related to this is service productization, which opens up new opportunities and areas of growth for professional service organizations. Central data storage provides insight into trends and client needs, allowing professional service organizations to integrate resources and capabilities into new packaged products with more predictable costs and pricing.
In addition, there are challenges in improving employee profitability. This means giving employees and managers the tools to be more productive and more proactive about the jobs they are responsible for. This not only increases chargeable utilization, but also makes employees more engaged and satisfied with the work they do. If resources are poorly managed, projects can quickly run overtime and over budget. Accurate information is critical to good financial management, which means going beyond spreadsheets. Doing this requires real-time visibility into resource utilization and available skills, ensuring managers can assign the right people to the right projects in the most efficient way. As professional service organizations increasingly look to international expansion to drive growth, having the right technology platform becomes even more important. Businesses need robust systems to support cross-border reporting and manage the efficient use of global project resources.