Hotel e-Procurement Solution
Challenge
---
From purchasing and supply chain management to strategic acquisitions, customer service and relationship building, the role of procurement varies widely within a given organization. However, in markets such as the hospitality industry, procurement and purchasing managers are linked to the success of a business at almost every level.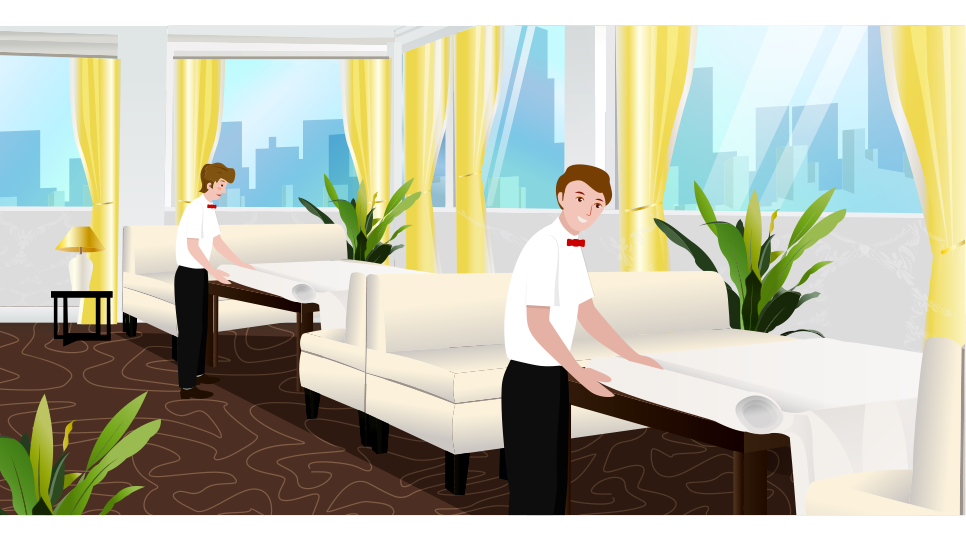 In the hotel field, procurement occupies a particularly important position. Not only does it effectively supply organizations, but it also creates value through the highest quality products and services in terms of customer service functions. In the digital age, traditional hotels find themselves locked in fierce competition for new boutique-style accommodations offered by Airbnb and similar services. Traditional hotels strive to cut costs without sacrificing quality or user experience.
Cinema, resort, cruise, entertainment and hotel procurement professionals face daunting but not insurmountable challenges. By familiarizing yourself with these issues and solutions, you can streamline the procurement process, maximize cost savings, and create lasting value while remaining competitive.
Four challenges that hotel procurement organizations often face
Like all entities purchasing goods and services in the modern marketplace, the hospitality industry faces common procurement problems and requires reliable and cost-effective solutions to address them.
1. Inadequate (or no) integration of e-procurement software
Procure-to-pay process management for hotel supplies, furniture, fixtures and equipment and hotel operations; supply chain management and supplier relationship development; reduce operating costs and support hotel management.
Without a centralized electronic procurement system to support these procurement functions, even the most experienced procurement managers will find themselves dealing with not just tides, but troublesome ones. Failure to find and integrate an e-procurement package that meets the organizations specific needs can have catastrophic consequences, such as lost or duplicated purchase orders, unusual spending on everything from office supplies to critical services, and missed opportunities to build strategic partnerships with suppliers that could further save costs.
In the hotel industry, hotels that integrate real-time centralized electronic solicitation systems will soon find that all their transactions are fully transparent, and abnormal spending is reduced or eliminated.
Using analytics that provides information for planning and supply chain management help:
Assess and strengthen supplier relationships
Harvest shorter delivery time, highest quality products and best prices
Effectively forecast and plan
Increase control over internal and external source support for essential services, including business process outsourcing
Provide user-friendly self-service for common purchasing activities
Greatly improve the processing efficiency of documents and orders
What is more, e-procurement systems create an environment that minimizes other common problems, whether they supply one hotel or hundreds.
2. The demand plan is not comprehensive
In a seasonal industry like hospitality, the challenge of balancing how much to buy versus when to buy goods or services becomes much greater. Customers want the highest quality goods and services, and you don't want to risk losing customers, so you might spend more to ensure that customer service isn't compromised. If you stock up on items when the prices are more affordable, but the items have not been used (if the items are perishable or obsolete), you are actually wasting money, or wasting time and manpower dealing with storage space you did not intend to use.
To plan for demand and get the best price, you need the ability to determine when and how your company will use goods and services, while developing smart, adjustable policies for real-time restocking and renewals.
Software solutions enable better spend management, providing critical insights into quarterly and yearly trends in customer demand, product availability and cash flow. You can make timely, relevant and cost-effective decisions that meet business needs (and add maximum cost savings to the bottom line) without losing value.
3. Relationship management is ineffective
Are your suppliers familiar with your colleagues who understand business needs? Or are they just password files—just the voice on the other end of the phone or the voice on the internet screen? Building strong relationships with suppliers is the key to building a successful hotel business. Without these relationships, you could miss out on special deals, volume pricing, and even exclusive contracts that not only save costs, but also create strong value for your business short-term and long-term goals.
In an industry defined by productive and healthy relationships, e-procurement systems make data collection and utilization easier, helping to build mutually beneficial relationships throughout the supply chain. A strategic partnership easily delights customers and creates value through superior merchandise, service and customer support.
4. Focus on saving money, not value
In a perfect world, the best quality products and services should be plentiful and affordable with free delivery. But in the real world, high costs and tight budgets draw attention to rock bottom prices rather than offering products and services that meet customer expectations and needs. The key to long-term success, however, is a procurement service designed to track and capitalize on opportunities to create real and lasting value, not short-term cost savings.
So-called "bargains" are rarely cheap as they can be of poor quality and more prone to failure (and need to be replaced), leading to unhappy customers, churn, expensive public relations issues and minimal profits. If e-procurement software is at the heart of the procurement process, you can easily track and meet customer needs and expectations, and buy the highest quality products at the best possible price—especially when you also pay attention to building supplier relationships that can bring you new opportunities for cost savings and long-term value creation.
Continued success
Procurement may play a bigger role in hospitality than in other industries, but it is not more painful to manage. With the right software, tactical and strategic purchasing approaches and commitment to building strong supplier and customer relationships that create value for your business, understanding and overcoming purchasing challenges becomes easier.
Solution
---
E-procurement software tailored to hotels like 8Manage Procurement provides web-based dynamic procurement automation to help companies manage complex supply chains and extensive operations. These solutions include capabilities for requisition creation, approval processes, supplier catalogs, order lifecycle management, supplier self-service portal, budget management, receipt and execution, spend analysis and so on—all in one real-time platform.
The e-procurement feature can also improve the purchasing business of hotel companies in the following ways.
Data Concentration
8Manage e-Procurement centralizes all expenditures in one platform, where approvers can view ongoing purchasing in real time, and buyers can quickly view changing data related to budgets, suppliers and catalogs. Because of this connectivity, top management can gain insight into financial activities from a beneficial and broader perspective. 8Manage e-Procurement is easy to adopt, and its comprehensive budget management, e-procurement and management accounting support centralized management and control.
Full Control
Managing spending across multiple locations depends not only on activity visibility, but also on real-time control of activities.8Manage e-Procurement provides extensive control in many areas of procurement, including the approval process. Thanks to this control, administrators are able to create detailed wiring and approval structures to quickly send documents and maintain the security of sensitive financial data. Businesses can set purchasing limits based on certain parameters, such as monetary thresholds. Organizations can configure role-based access to the system or restrict certain purchases based on spending categories. These controls can cover all locations and all users.
Flexible Supplier Directory
8Manage e-Procurement provides a powerful supplier directory to help companies choose the most suitable and cheapest projects and services. The e-Catalog function like online shopping malls offers users a wide variety of products with extensive details and competitive pricing. It supports the creation of requisitions and purchase orders from catalog selections, which are more accurate and compliant than manual non-catalog requisitions because they are integrated with supplier contracts and/or maintained by suppliers. 8Manage e-Procurement is designed to provide a more interactive, user-friendly shopping experience in the catalog to compete with sites like Amazon.
The most innovative way to obtain supplier products is the punch-out catalog. It is maintained by the supplier and hosted outside of 8Manage e-Procurement, but is integrated with the users ERP to quickly transfer purchasing information back to the hosting system. A punch-out catalog is valuable to hotel companies because the solution enables suppliers to maintain product information and prices, while allowing applicants to shop at supplier sites and push product data into their own systems for approval. This solution is particularly attractive given the volume of merchandise and spending that the hospitality industry manages.
Budget Management Support
One of the best ways to control spending across multiple locations is to use and follow a strict budget. Tailored to the needs of the hospitality industry, 8Manage e-Procurement allows organizations to understand the potential impact of procurement on budgets before spending is incurred. If spending exceeds budget limits, the solution displays a warning icon or sends a purchase requisition through a dedicated approval process.
Supplier Control
8Manage e-Procurement provides an advanced self-service supplier portal that enables buyers and suppliers to communicate and collaborate. The Self-Service Supplier Portal enables suppliers to receive purchase orders, send advance delivery notices and check invoice status and payment status as well as update configuration files and payment information. Many portal websites also offer dispute management capabilities that allow suppliers to work with hotel companies to complete collaborative programs and interactively resolve issues. All in all, the Supplier Portal assists hotel companies in gaining more control over suppliers—whether it's geographic location, type of supplier, or frequency of communication.
Accounting and Analysis
In addition to offering real-time visibility of procurement activities, 8Manage e-Procurement also provides historical visibility of all activities on the platform. The audit trail records cover the entire purchase requisition and purchase life cycle, and administrators and approvers can view the real-time approval and order status at any time. This removes blind spots in the P2P lifecycle that often arise in manual processes, helping with regulatory compliance in future audits. Using 8Manages built-in reporting and analysis tools, you can utilize procurement data in spend analysis. This enables top management to conduct financial forecasts and other strategic activities with greater accuracy and impact.